What is Invisalign?
Invisalign are plastic, transparent trays, also called aligners, used for straightening teeth and correcting malocclusion. Invisalign aligners have been our specialty since 2008.
Treatment begins with a digital scan of the patient's teeth. Using the three-dimensional model, the dentist creates a complete plan of teeth straightening, including the shift from the initial to the desired position. The knowledge and experience of the doctor is extremely important here, as he has to predict and design all the necessary movements of the teeth in advance.
The great advantage of this technique is the ability to present a visualization of the final result even before the treatment begins. You can see how your new, dream smile will look like and check whether it meets your expectations. We make the visualization for you at no extra cost!
Once the treatment plan is approved, we order a set of Invisalign aligners that are individually tailored to the individual patient's bite, and gradually move the teeth. Each aligner from the set should be worn for about a week and replaced until the desired tooth alignment is achieved.
Unlike fixed braces, Invisalign aligners are practically invisible after being put on, additionally they can be taken off and put back on at any time, which definitely increases the patient's comfort. It is important that they should be used for about 20 hours a day.
Invisalign transparent aligners are a very precise, digital tool which, in the hands of an experienced orthodontist, can cure even very difficult malocclusions. However, remember that the final result depends on the skills and experience of the orthodontist as well as cooperation and commitment of the patient. Together, we can achieve a new, beautiful smile, which will change your life. Regain your self-confidence and smile widely!
At the Center of Modern Orthodontics in Warsaw, Dr. Wierusz-Hajdacka has treated over 1000 patients with Invisalign, which makes her one of the most experienced doctors in this part of Europe.
Dr. Weronika Wierusz-Hajdacka has also been an official Invisalign lecturer since 2016, conducting Invisalign trainings for doctors from Poland and abroad.
In 2021 she reached the Diamond Apex Top 1% Invisalign World Provider Level!
Advantages of using clear dental trays:
Almost invisible on your teeth. As long as you don't say you have braces on your teeth, no one will see them.
You can take them off your teeth at any time for full comfort
Aligners do not affect your speech like traditional braces
Allows you to maintain excellent hygiene throughout the treatment
Precise treatment planning with before and after visualization
Dream smile in just a few or several months, depending on the malocclusion
No metal parts that can occasionally cause allergies
Faster treatment compared to conventional braces
Treatment options for children, adolescents and adults
How does Invisalign work?
Invisalign aligners move your teeth by applying controlled pressure of the right amount of force, which moves your teeth into the position specified by your doctor. Unlike traditional braces, each Invisalign arch works not only in the right place, but also for the appropriate length of time.
Below are before and after photos of our patients wearing Invisalign aligners:
Our orthodontic treatment specialists
Dr Weronika Wierusz-Hajdacka
In 2008 she completed Invisalign Certification Course, as one of the first doctors from Central and Eastern Europe. Additionally she did 2 years of Master Invisalign training at Ferrara University in Italy.
Since 2009 she has been popularizing Invisalign treatment in Poland. She is not afraid of difficult challenges, she successfully applies Invisalign treatment in case of small as well as difficult malocclusions requiring significant teeth movement.
In 2015, she was the first doctor in Poland to start using the iTero intraoral scanner, replacing traditional orthodontic impressions with a virtual 3D model of the teeth. This allows her to perform the entire treatment planning process digitally, with the highest possible accuracy.
Since 2016, she belongs to the group of official Invisalign lecturers. She conducts Invisalign trainings for doctors in Poland and abroad.
To date, she has treated over one thousand patients with Invisalign aligners alone.
Are plastic aligners a good option for me?
Invisalign aligners are a treatment for a variety of both simple and complex malocclusions that require teeth straightening. Regardless of the specific problem, the result of each treatment is a new, more beautiful smile that you will enjoy showing to others.
Defects that can be treated with Invisalign:
Teeth crowding
Gaps between teeth
Crossbite
Deep bite
Forebite
To see if Invisalign treatment suits your needs, a consultation with our specialist is essential.
Effects of treatment of our patients with Invisalign aligners
Here are the effects of Invisalign treatment for some of our patients
Patient 1 - treatment method: Invisalign, malocclusion: open bite, crowding, treatment time: 6 months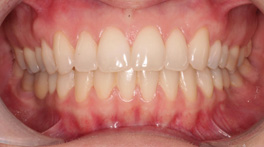 Patient 2 - treatment method: Invisalign, malocclusion: crowding, treatment time: 12 months
Patient 3 - treatment method: Invisalign, malocclusion: crowding, unilateral backbite, treatment time: 18 months
Patient 4 - treatment method: Invisalign, malocclusion: backbite, treatment time: 24 months
Please send us the form to schedule an appointment
Invisalign - frequently asked questions
How long does Invisalign treatment take?
drop
It depends on the malocclusion and dental abnormalities. In case of Invisalign, the treatment is about 6 months faster than in case of classic fixed braces and on average takes from 10 to 18 months.
For minor malocclusions, treatment takes about six months.
Does aligner affect the way you speak?
drop
For the vast majority of patients, Invisalign do not affect the way they speak. However, it is important to remember that, as with any treatment, a period of time is required at the beginning to adjust to something new on your teeth.
Do you have to follow any food restrictions during the treatment?
drop
Using Invisalign does not affect your diet, as unlike traditional fixed braces, the overlays are removed before meals and allow you to maintain perfect hygiene throughout your orthodontic treatment.
I travel a lot and don't have time for frequent check-ups, are dental trays a good solution in my case?
drop
When treating malocclusion with Invisalign overlays, our specialist anticipates all tooth movements and prepares the entire treatment process from the beginning. Thanks to this, we can definitely reduce the number of necessary control visits. Also the number of potential failures is significantly lower compared to traditional braces. Therefore, plastic overlays on teeth are ideal braces for busy people and those who travel a lot.
At what age can I begin treatment with Invisalign?
drop
We can treat adults, adolescents and children with dental overlays. The age of the patient is not a problem. During the consultation visit we will inform you when it is best to start treatment in a particular case.
Can overlays cure a major malocclusion?
drop
In the case of orthodontic treatment, the knowledge and experience of the doctor and the cooperation of the patient play a key role. Invisalign is only a tool, but in the right hands it is very effective. Currently, with the use of Invisalign plastic trays we are able to treat practically any malocclusion.