Why us?
Many years of experience, we are one of the first private orthodontic practices in Poland.
We effectively treat children, adolescents and adults. We have been specializing in Invisalign - transparent trays - since 2008.
Our team consists of medical specialists, most of them active lecturers at national and international conferences and courses.
Invisalign Clinic Warsaw
Invisalign - invisible aligners
We are increasingly treating patients who do not accept the look of traditional metal or crystal braces.
We specialize in a new treatment technique - this is Invisalign, which allows for practically invisible orthodontic treatment.
Invisalign are clear overlays on the teeth, which are changed every few days and which, step by step, move the teeth to the proper position, previously designed by the orthodontist. Aligners are practically invisible, but with well-planned treatment they work very effectively and often faster than traditional fixed braces. An additional advantage is a much higher level of comfort for the patient, compared to traditional braces.
We have been specializing in Invisalign since 2008 as one of the first clinics in this part of Europe! Thanks to our experience and knowledge we treat both simple and very difficult malocclusions in adults, adolescents and children.
Treatment in our Warsaw office is conducted by orthodontist Dr Weronika Wierusz-Hajdacka - the official lecturer of the Invisalign system in Poland.
Currently, over 1000 of our patients are already enjoying their new smile with Invisalign.
If you are looking for Invisalign specialist in Warsaw - we are for you!
Intraoral scanner Invisalign
We are pleased to announce that we are the first Invisalign clinic in Poland to equip our center with an intraoral scanner.
Until now, in order to obtain a model of the patient's teeth, impressions were taken from which a plaster model was cast. Now we scan the teeth, and we design your smile fully digitally, with the highest accuracy.
We can also present a visualization of the end result before treatment begins.
You can see how your new, dream smile will look like, check if it meets your expectations and make a conscious decision about treatment. We make the visualization for you at no extra cost!
See more
Treatment effects
Treatment method: Invisalign, malocclusion: open bite, crowding, treatment time: 6 months
Patient 1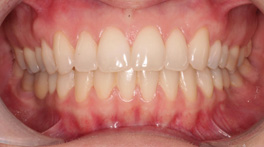 Treatment method: Invisalign, malocclusion: crowding, treatment time: 12 months
Patient 2
Treatment method: Invisalign, malocclusion: crowding, unilateral backbite, treatment time: 18 months
Patient 3